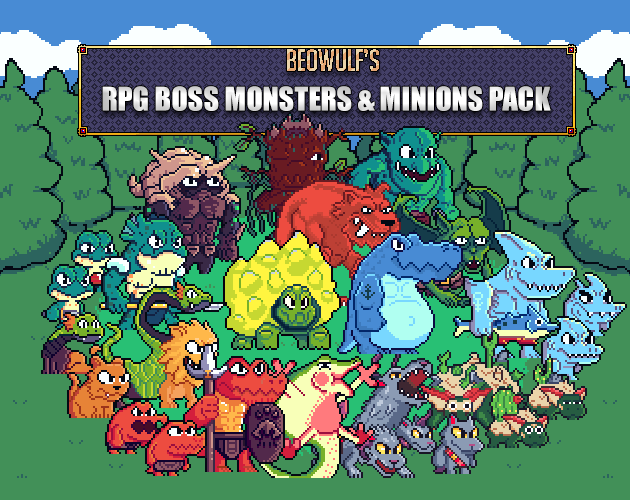 RPG Monsters & Minions HUGE Pack
A downloadable asset pack for Windows, macOS, and Linux
Create epic battles in your RPGs with the RPG Monsters & Minions pack. This pack includes 350 static monsters character sprites that you can use in your games in many different ways.
Orcs, Kobolds,spiders,dragons and many other different RPG monsters are included on this pack this is a work done for many months during my pixel art stream on www.twitch.tv/xbeowulf.

You can set up these sprites to work in various types of games from RPG games to Card Battle games or Dungeon Crawling games
This collection of sprites introduces a huge variety monsters and bosses to bring your game's battles to the next level.

This pack includes:
60 "oversized/boss" static monsters sprites; 64x64 pixels
240 "minions" static monsters sprites: 32x32 pixels
All Bosses have minions that you can use to expand your story and game lore!
Already set up perfect for side-view battles
Unique Characters and original concept monsters
350 sprites total!
You can use these sprites in for projects in differents engines like game maker, unity, rpg maker, paper rpg maker and etc!
Purchase
In order to download this asset pack you must purchase it at or above the minimum price of $10 USD. You will get access to the following files:
Bosses & Minions Pack_3.5_FINAL_UPDATE.zip
3 MB
Bosses & Minions Pack_3.0( UPDATE +50 Monsters).zip (ZIP FILE)
2 MB
Bosses & Minions Pack_3.0( UPDATE +50 Monsters).rar
2 MB
Bosses & Minions Pack_2.0(UPDATE).rar
2 MB
xBeowulf Bosses & Minions Pack_1.1.zip
2 MB
Comments
Log in with itch.io to leave a comment.
I'm curious, how did you make the one that's 3d?
Hello Demosthenes, i used a software called "RPG Paper Maker" it is available on Steam for free
Does this have walking animations for each monster or is this just the battlers?
Hello Beowulf! The content, 'Bosses & Minions Pack_3.0.rar' can't be unRAR isn't it? I use Windows10, and Lhaplus. How to open it? Thanks for your cooperation.
Hello @voidgame yes i just checked it is .rar so it would need winRAR to open it, i will provide a .zip file since it is more windows friendly , thanks for informing me!

(edit) Just Uploaded it try downloading the one marked as (ZIP FILE) it now
Perfect! I succeed to open a .zip file. Thank you for all your kindness.
Hello Ruko, first of all Thanks for getting my pack :). Instead of inserting the spritesheet, You can insert the monsters on RPGMAKER MV by their single files like this -check the gif bellow \/ - (TIP: if you hold shift you can select many sprites at the same time)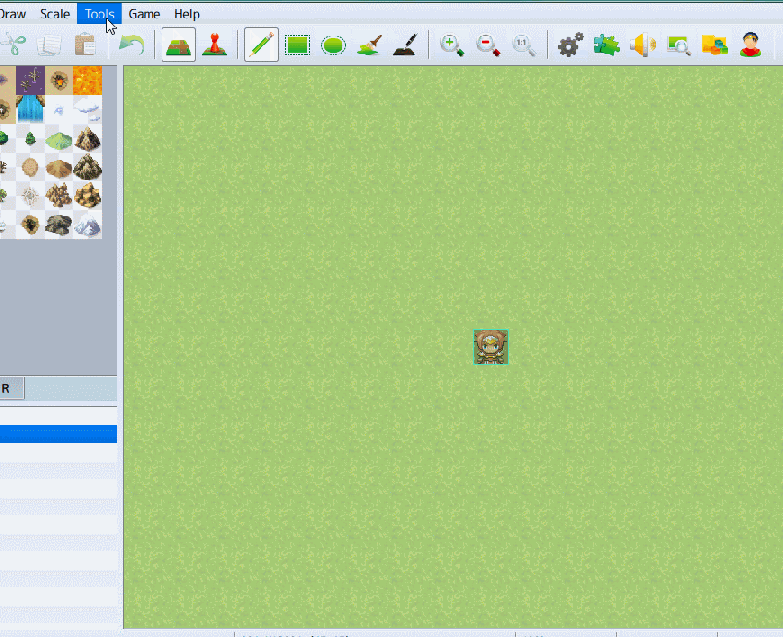 no, they wont, they were meant to be enemies, inside the rpg maker mv you can import them into these resource folders
"img/enemies"
"img/sv_enemies"

Hey Beowulf! Seria muito legal se tivesse uns 2 ou 3 heróis para enfrentar esses Boss & Minions! Você tem planos pra isso? Eu estou aqui pensando em criar um jogo com esses Monstrinhos, mas queria ter uns 2 ou 3 Heróis pra gente jogar com eles.
Olá Joquinhos obrigado pelo comentário!
Não tinha pensado em criar heróis para este pack já que ele é só de monstros e chefes , mas a sua idéia é uma boa idéia!
eu poderia sim criar alguns personagens no meu estilo para incorporar no mundo desse pack.
Contudo se eu for criar eu provavelmente criaria em um pack separado.

Hi, just want to make sure, can we use/share a purchased asset to more than one game/ more than one game developer?
Or it just licensed as a single product (one license for one game only).
Hello Asemdjo!

You May use the Asset(s) in a single Media Product, which may be either a single Monetized Media Product OR in a single Non-Monetized Media product, per purchase. For avoidance of doubt, Purchaser may purchase the Asset(s) multiple times to use in multiple Media Products.
So, from what I got from your explanation, it is one license for one game/media only, doesn't it?
If I wan't to use it to other media, I must buy it again?
Hey, this pack looks really cool! I was wondering what sort of license it has, particularly with regards to commercial use being allowed (in a game, obviously not just reselling) or not.
Thanks!

hey @bookworm31 glad you like my monster pack,

Quick Licence Overview:
-You CAN use the assets in commercial and free projects.
-You CAN edit and repurpose the assets.
-You MUSTN'T redistribute / resell the assets.
-You MUSTN'T use the assets in any printed media or physical product.
Giving Credit is not a necessity, but appreciated =)